We've been full time nomads for 2 ½ weeks now, which makes us nomad infants, squinting at our new lives. We're goofy with joy, given to big grins at each other. In our tent in one of the beautiful national parks we visited, we gestured grandly at the nylon roof and exclaimed, "Honey! Right now, this is our HOUSE!"
We feel as proud as artists whipping the tarpaulin off our marvelous new work, this handcrafted, crazy thing we've labored to create: our new nomadic lives.
I had to rally my courage to get here. Renting out the house, unloading 95% of our stuff, and saying goodbye to our jobs and our friends took courage. Now we're riding that flush of well being that crashes over a person after a courageous action.
But courage, I recently had occasion to remember, isn't something I can rally on the front end of nomadism, never to be called upon again. Nope. I will need to find my courage regularly to navigate all kinds of newness and discomfort, adventure and growth.
Take, for example, this sign, posted in Coopers Rock State Park in West Virginia, our "home" on our first few nights of nomad life.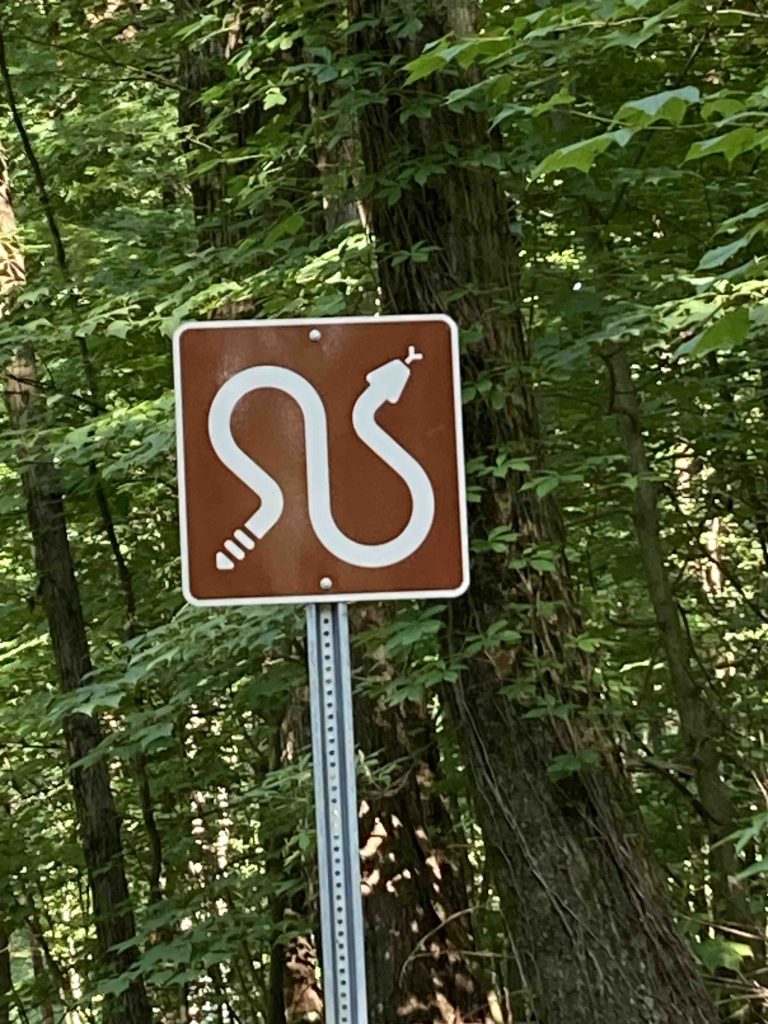 Yes, that's a snake crossing sign.
Rattlesnake crossing, people.
In my years of camping I've seen plenty of deer crossing and bear crossing signs. But rattlesnake crossing? That's a new one. Also new: signs on the bathrooms and dishwashing room that read, "Close the door to keep out our forest friends!" accompanied by pictures of snakes. Add in the rattlesnake skins pinned up behind the registration counter, and okay, I get it, there are snakes around here and you don't want me to forget it.
Trust me, I didn't. I checked in every stall and around the sinks when entering the bathroom, and my head swiveled around like a bobblehead toy as we hiked and tucked into our tent at night. Snakes remained front of mind for me the whole time we were there.
But we stayed, we hiked, we slept soundly, we cooked veggies with eggs under the trees. We gathered up our courage and used it. I think a younger version of myself may have allowed the specter of a snake to ruin–or at least to dilute–those golden days in the woods.
But the new nomadic me thought, very well then, snakes. I woke early and walked out to Coopers Rock, with the sweeping view over the Cheat River valley, to stretch in the cool morning breeze and watch the sun come up. I had it to myself. Yes, I had a good look around to see if my forest friends also like to stretch out on the outcrop of cool, smooth black rock, but it didn't stop me.
Maybe I get to have a nomadic life because I've found the courage to live it.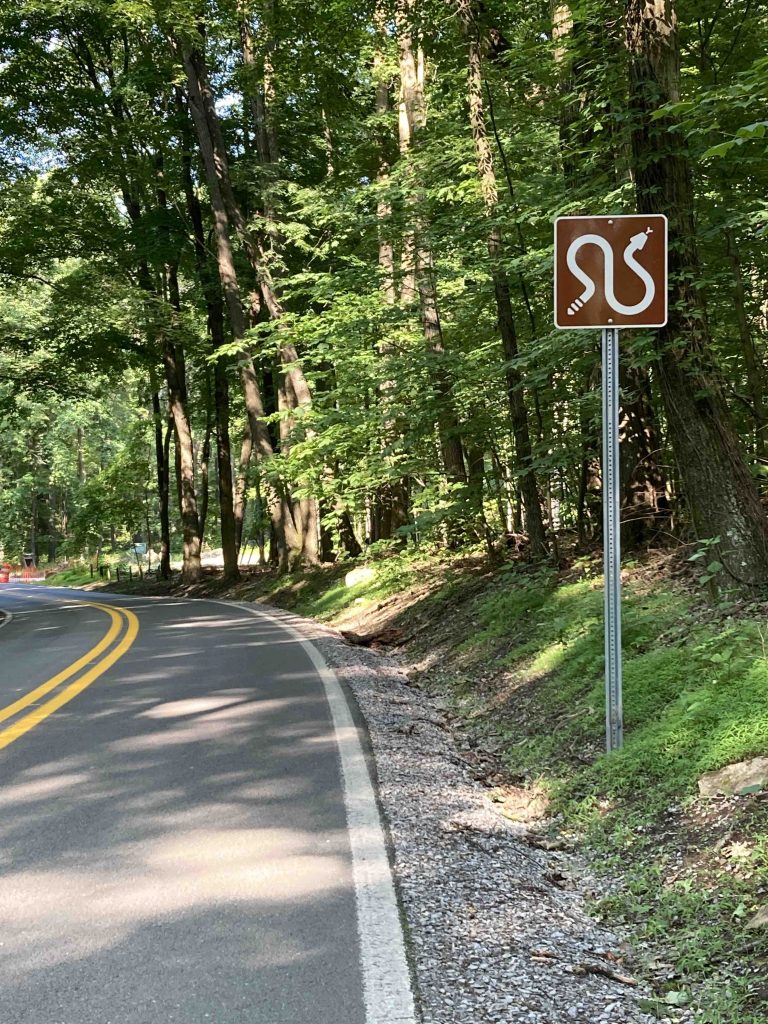 And did I ever see a snake, you ask? Yes, just one, as the campground host removed it from a campsite, gripped at the far end of one of those extended metal grabbers. The host nonchalantly strolled along, snake thrashing, and dropped it right into the garden next to the registration cabin. Right next door to the shower house. Right where I was headed.
Yeah, this life is going to take courage.
Thanks for reading! I have new posts about every week, so bookmark Fieldtripnotebook.com.